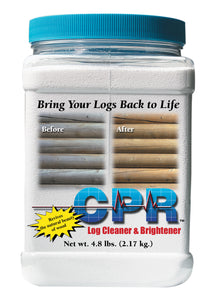 CPR Log Cleaner & Brightener
$ 2789

$ 27.89

Save $ 3.10
---
---
CPR® Log Cleaner and Brightener brings your logs and wood back to life.
CPR cleans and brightens bare logs and wood, and restores luster and vibrancy when used for routine log home maintenance. It's a gentle log and wood home cleaner whose oxygenated bleach formula won't weaken wood fibers. It effectively kills mold, mildew and fungus, while also removing dirt, dust, pollen and other surface contaminants. Use CPR in conjunction with power washing or media blasting to perfectly prepare wood surfaces before staining, or apply with a pump sprayer and rinse with a hose for routine maintenance.
CPR® Log Cleaner and Brightener benefits include: 
Oxygenated bleach formula is gentle yet effective
Powder form is easy to transport – no spills along the way
Easy to mix and apply
Environmentally friendly – won't harm plant life
Safe to use around pets and kids
Where not to use:
Due to discoloration, do not use CPR on high-tannin woods, like Redwood. Always test in an inconspicuous area first.
Made in U.S.A.
---
We Also Recommend
---