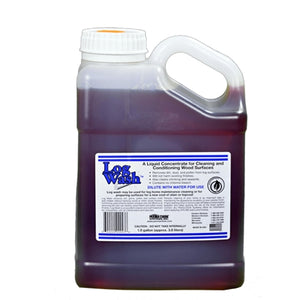 Log Wash - 1 Gallon concentrate
Perma-Chink Log Wash is a liquid concentrate for cleaning log and wood surfaces. It can be used as a maintenance cleaner or to prepare the surface of wood for a new coat of stain or topcoat.
Cleaning Bare Wood
Log Wash is the best product to use for cleaning all bare wood surfaces.
Besides removing dirt, dust, pollen, sanding and blasting media residue Log Wash will remove many types of bare wood discolorations including brown chemical stains. We strongly recommend that all bare wood surfaces be washed and conditioned with a Log Wash solution before applying any Lifeline finish systems.
Maintenance Cleaning
Use Log Wash for washing the dust and dirt off interior and exterior finished wood surfaces. Its unique formulation removes dust, dirt and other contaminates from walls and chinking without harming the existing finish. Washing your home once or twice a year with Log Wash will keep your Lifeline finish looking great and will help extend its life.
Removes dust, dirt and pollen
Superior to bleach/water
Won't harm existing wood finish

---
Coverage
Log Wash concentrate gallon, if used with 1 cup per gallon of water expect 3000 sq.ft. for maintenance cleaning. At 2 cups per gallon of water expect 1500 sq.ft. for cleaning bare wood. Interior 1/2 to 1 cup Log Wash per Gallon of water.  PER 1 CONCENTRATED GALLON OF LOG WASH.
Shelf Life

Application Temperature

Application Methods

Frequency

Special Instructions

Apply from bottom-up, rinse from top-down

Rinse thoroughly
---
We Also Recommend
---